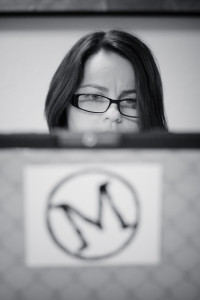 Yesterday I calculated the number of days until I turn 40 – it was 101 days. I promise I won't write every day of the countdown. Since it is a Tuesday, when I would write a blog post about dating, I decided to combine the two themes.
I recently came to a realization about me and dating.
In addition to being certain that matters of the heart will be my cause of death, I came to the realization that I am not ready to seriously date anyone.
I don't even know if I would recognize Mr. Right if he were standing on my doorstep holding a bottle of wine and fresh flowers wearing a nametag that said Mr. Right. More than likely I would tell him what my mother told my father the night he proposed,
"Go home and think about it."
When I asked my dad what he did he said, "I did exactly what she told me and I went home and thought about it. Then I came back and asked her again."
The rest, as they say, is history.
My best friends since grammar school hear every second of my dating and non-dating life. It's the cross they bear. We went to a Catholic grammar school so martyrdom is a familiar place for all of us.
They know my deepest, darkest secrets. They know I wrote poetry all afternoon on Sunday while crying my eyes out.
Poetry isn't exactly written from the happy place, at least not for me.
When I woke up yesterday I felt different, like a weight had been lifted from my shoulders. I have been so obsessed with turning 40 and where I think my life should be that I forgot to reflect on what I have.
I have a kickass life.
I have family and friends who adore me and who I adore.
I work hard and I play harder.
Most importantly I know what I want and I will not settle – and that's not just for dating.
I would rather be writing than fighting.
I would rather have three friends who are loyal and trustworthy than 100 who are lying drama queens.
When the tears are shed and the poetry is written I come back to the space where I would rather be alone than with the wrong person. Of this I am sure.
That is where I am 100 days before I turn 40.
Anne McAuley is a Mesa, AZ based freelance writer and owner of McAuley Freelance Writing. She helps businesses get noticed online through content marketing including blogging, copywriting and social media. She likes to say she is a Word Stylist. While celebrity stylists help their clients find their public style with clothes, hair and make-up, she helps her clients find their style with words and messaging. Anne can be reached at [email protected] or on Twitter @freemcauley.
Related articles